<![if !vml]>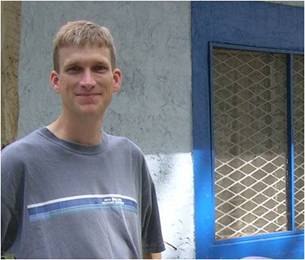 <![endif]>Jeff  Popke
Department of Geography                                       
East Carolina University
Greenville, NC 27858
(252) 328-6087
popkee@ecu.edu
Welcome to my homepage!   I am a human geographer with interests in the uneven dynamics of global change.  My investigations are eclectic, but share a concern to bring geographic theory and the lens of ethics to bear in understanding local social and spatial transformations.  A major focus of my recent work has been the issue of Latino transnational migration from rural Mexico to Eastern North Carolina.  Another current project examines the impact of socio-economic and environmental change on small farmers in Jamaica.  More information about these and other research projects, as well as my teaching, can be found below.
<![if !vml]> <![endif]>
Teaching
My teaching is focused on instilling in my students a critical understanding of the geographical forces impacting peoples and societies around the world.  In my undergraduate courses, I work to foster an ability to view global processes and events from multiple perspectives, and to cultivate a global sense of citizenship and engagement.  My graduate seminars focus on careful scholarly engagement with influential texts and arguments, in order to develop skills of critical thinking, clear and persuasive writing, and active dialogue.  
Classes:
GEOG 2100         World Geography, Developed Regions
GEOG 2110         World Geography, Less Developed Regions                                                                                        
GEOG 3004         Urban Geography
GEOG 3049         Latin America
GEOG 3055         Africa
GEOG 6100         History and Philosophy of Geography
INTL 6105             Global Issues
<![if !vml]> <![endif]>
Research
<![if !vml]>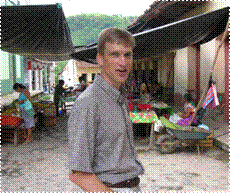 <![endif]>
Geographic Thought and Theories of Ethics
My empirical investigations are informed by a keen interest in contemporary intellectual debates within geography and social theory.  I believe that philosophical discussion is crucial to the vitality of the discipline, and I have tried to contribute to academic discussions in much of my work.  In recent years, I have been drawn to theories of ethics, as a way to think through our relations with, and responsibilities toward, the human and non-human others with whom we must share a common world.   More recently, I have been interested in considering how an ethics of the in-common might be welded to theoretical approaches that examine how 'the social' comes to be assembled and understood in different contexts.
Popke, J. 2010.  Ethical The Spaces of Being In-common.  In The Handbook of Social Geography, S. Smith, R. Pain, S. Marston and J. P. Jones III (eds).  London: Sage, pp. 435-454     [Manuscrtipt final draft]
Popke, J. 2009. Geography and Ethics: Nonrepresentational Encounters, Collective Responsibility and Economic Difference.  Progress in Human Geography 33(1): 81-90.  (pdf)
Popke, J. 2007.  Geography and Ethics: Spaces of Cosmopolitan Responsibility.  Progress in Human Geography 31(4): 509-518.  (pdf)
Popke, J. 2006. Geography and Ethics: Everyday Mediations through Care and Consumption.  Progress in Human Geography, 30(4): 504-512.  (pdf)
Popke, E. J. 2004.  The Face of the Other:  Zapatismo, Responsibility and the Ethics of Deconstruction.  Social and Cultural Geography, 5(2): 301-317.   (pdf)
Popke, E. J. 2003. Poststructuralist Ethics: Subjectivity, Responsibility and the Space of Community.  Progress in Human Geography, 27(3): 298-316.     (pdf)
Latino Transnational Migration
North Carolina  The bulk of my empirical research over the past several years has focused on transnational migration from Mexico to Eastern North Carolina.  Most of this work has been in collaboration with Dr. Rebecca Torres at the University of Texas.  As is now well-known, many regions in the US Midwest and South became 'new destinations' for migrants during the 1990s, with some areas experiencing dramatic increases in their Latino populations.  Such was the case for rural Eastern North Carolina, and our initial aim was simply to try to document, so as to better understand, a phenomenon that was attracting a good deal of public and media attention.  Our approach has been largely qualitative, built around semi-structured interviews with migrants, employers, local service providers, and leaders within the Latino community.   More recently, I have attempted to suggest some of the theoretical resources that might be brought to bear in understanding the relationships between neoliberalism and migration in the rural US South.  
Popke, J. In Press.  Latino Migration and Neoliberalism in the Rural South: Notes Toward a Rural Cosmopolitanism.  Special issue on "Latina/o Geographies in the 'New' South: The North Carolina Experience",  Southeastern Geographer.  [manuscript version]
Torres, R., Popke, E. J. and Hapke, H.  2006.  The South's Silent Bargain: Rural Restructuring, Latino Labor and the Ambiguities of Migrant Experience. 
       In H. Smith and O. Furuseth (eds), The New South: Latinos and the Transformation of Place.  Burlington, VT: Ashgate, pp. 37-67.    [manuscript version]
Torres, R., Popke, J., Hapke, H, Suarez, M., Serrano, H., Chambers, B. and Castaño, P. 2003.  Transnational Communities in Eastern North Carolina: Results from a Survey of Latino Families in Greene County.  The North Carolina Geographer, 11: 88-107.  (pdf)
<![if !vml]>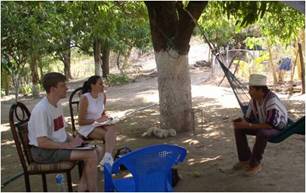 <![endif]><![if !vml]>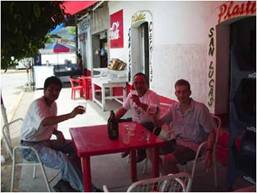 <![endif]>
                                                                                                                                                                                                                                Interviewing in Michoacan                                                  Taking a break from fieldwork in Mexico       
Mexico   Our initial investigations in North Carolina led us to wonder about the  factors driving out-migration from Mexico.  This resulted in two field-based research projects in Mexican sending regions, one in Michoacán and the other in Veracruz.  In all, we carried out some 70 interviews with local families, migrants, community leaders, farmers and government officials.  The dynamics of migration are obviously complex, but our most basic finding is that it is impossible to understand new streams of transnational migration without accounting for the impacts of neoliberalism on rural agricultural regions of Mexico.  In Veracruz, we were able to observe an additional dynamic, namely that the meanings and impacts of migration vary greatly from one community to the next, as they are filtered through local understandings of ethics and community.
Popke, J. and R. Torres.  Under Review.  Neoliberalization, transnational migration, and the varied landscape of economic subjectivity in the Totonacapan region of Veracruz.  Annals of the Association of American Geographers.    [draft manuscript]
Socio-economic Change and Environmental Stress in Rural Jamaica
<![if !vml]>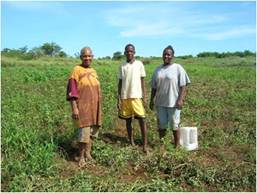 <![endif]><![if !vml]>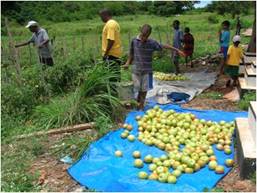 <![endif]>
Peanut farmers and tomato harvest in St. Elizabeth Parish, Jamaica
My most recent project (with Scott Curtis of ECU and Doug Gamble of UNC-Wilmington) involves an examination of globalization and climate change in rural agricultural communities in Jamaica.  Our aim is to combine a scientific assessment of environmental change, in particular drought, with a qualitative investigation of farmer perceptions of agricultural change.  We hope to better understand the relationships between globalization and environmental change, and to assess their impact on community resilience.  After preliminary research trips in 2009 and 2010, we hope to begin the project in the summer of 2011.
Gamble, D.W., D. Campbell, T. Allen, D. Barker, S. Curtis, D. McGregor, and J. Popke.  2010.  Climate Change, Drought, and Jamaican Agriculture: Local Knowledge and the Climate Record.  Annals of the Association of American Geographers 100(4): 880-893  (pdf)
Modernity, Race and Space in (Post)Apartheid South Africa
My PhD research examined the historical relationships between modernist epistemolgy, and racial and spatial formations in the city of Durban, South Africa.  My aim was to investigate the ways in which apartheid ieology was butressed by modernist ideals about space, identity, and order, and to suggest some of the challenges facing post-apartheid South Africa as these historical orderings have been dislocated.
<![if !vml]>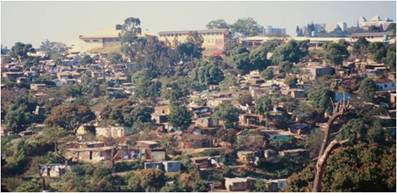 <![endif]>
The community of Cato Manor in Durban
Popke, E. J. and Ballard, R. 2004.  Dislocating Modernity: Identity, Space and Representations of Street Trade in Durban. Geoforum, 35: 99-110.  (pdf)
Popke, E. J. 2003.  Managing Colonial Alterity:  Narratives of Race, Space and Labor in Durban, 1870-1920.  Journal of Historical Geography, 29(2): 248-267.   (pdf)
Popke, E. J. 2001.  The African Mirror: Geography, Identity and the Epistemology of Modernity.  African Geographical Review 21: 5-27.   (pdf)
Popke, E. J. 2001.  Modernity's Abject Space: The Rise and Fall of Durban's Cato Manor.  Environment and Planning A, 33(4):737-752.   (pdf)
Popke, E. J. 2000.  Violence and Memory in the Reconstruction of South Africa's Cato Manor.  Growth and Change, 31(2):235-254.   (pdf)
Other Projects
In addition to these primary interests, I have in recent years collaborated with Katherine Jones on a critical examination of the spatial epistemology of the HOPE VI public housing program, and with Conor Harrison on a project tracing the contours of energy poverty in Eastern North Carolina.  I have also contributed to articles examining street naming and the use of humor in the geography classroom.
Harrison, C. and J. Popke.  Under Review.  "Because You Got to Have Heat": The Networked Landscape of Energy Poverty in Eastern North Carolina.  Invited submission, Annals of the Association of American Geographers.   [manuscript version]
Jones, K. and J. Popke.  2010.  Re-Envisioning the City: Lefebvre, HOPE VI, and the Neoliberalization of Urban Space.  Urban Geography 31(1):114-133.   (pdf)
Mitchelson, M., Alderman, D. and Popke, J.  2007.  Branded: The Economic Geographies of Streets Named in Honor of Reverend Martin Luther King, Jr.  Social Science Quarterly, 88(1): 120-145    (pdf)
Alderman, D. and Popke, E. J.  2002.  Humor and Film in the Geography Classroom:  Learning from Michael Moore's TV Nation. Journal of Geography, 101(6): 228-239.    (pdf)
Popke, E. J. 1994.  Recasting Geopolitics:  The Discursive Scripting of the International Monetary Fund.  Political Geography, 13(3):255-269.  (pdf)